Head of School's Message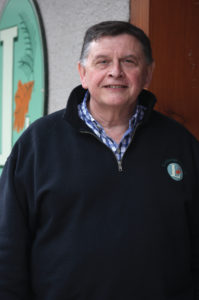 In my role at The Leelanau School, I regularly speak with parents, students, grandparents, aunts uncles and family friends. While their situations are all unique, there is a common thread to these conversations: someone they care deeply about is not reaching their potential in a traditional school environment.
The Leelanau School offers a better a way to learn. In a world that expects students to be standardized, we accept and celebrate the qualities that make each student different. With small class sizes and engaged educators we help each student leverage their own strengths to master a rigorous college preparatory curriculum.
The Leelanau School students are "doers." They are students with energetic minds who want something more than what a traditional, passive learning environment can offer. We don't define a classroom by four walls: the world is our classroom where we explore, discover, examine, and construct. Most of all, we want to spark a passion for learning that will last a lifetime.
We are currently accepting applications for new students. The Leelanau School has been inspiring students with hands-on learning for 87 years and we invite you to consider joining this group. Come see why The Leelanau School is a better way to learn!
JD Friley
Head of School
JD Friley Speaks About the Future
I feel very fortunate to have been a part of this school for the past 10 years. I am looking forward to my 11th year with great pride and honor to serve as your Head of School. I am humbled by the love and support Leelanau alumni, family and friends have bestowed upon us and know that we share a common interest – making this school the best it can possibly be. Toward that end, I have set several goals for my tenure:
• Grow enrollment to the right sized student body with students who will succeed and contribute positively to our community. We have made very good progress in meeting our enrollment goals for this school year and Michael Jarvis and Sarah Jane Crimmins are working very hard to ensure we can grow and sustain our enrollment at our goal numbers.
• Continue to offer strong academic and residential life programs that will challenge our student's cognitive, physical and social and emotional growth. I am thoroughly convinced that the way we teach is a better way to learn for all students. The faculty of this school inspire me every day to do my best for our students.
• Increase engagement and involvement of our parents and families by offering more opportunities to volunteer and interact with each other and our teachers, administrators and the board members. We have much untapped potential from all the talented people who interact with our school in various ways and we need to do a better job to give opportunities for everyone to contribute.
• Greatly improve awareness of our school through enhanced marketing, communications and public relations efforts. We have been working on some targeted marketing and it seems to be paying off, but even in our own community, too many people don't know who we are and what we do. We must change that.
• Achieve even more financial stability through maintaining a very lean budget and continue on a path of debt reduction. It is hard to make cuts to an already lean budget, but the cuts we have made were done to have the least impact on our student's experience.
• Raise the needed funds for operations, scholarships and program support. Our annual operating fund goal this is $525,000 and every donor's gift makes a huge difference to help us to this goal, no matter the size of gift.
• Continue to renovate as needed, and take care of this beautiful campus. We have a new roof that was installed on the Academic Building and renovations to the Robert Karner Science Room to unveil this fall.
I thank you all for your confidence in me. As I have said numerous times, I cannot do this alone. I look forward to great collaborations as we continue to build a bright future for The Leelanau School.