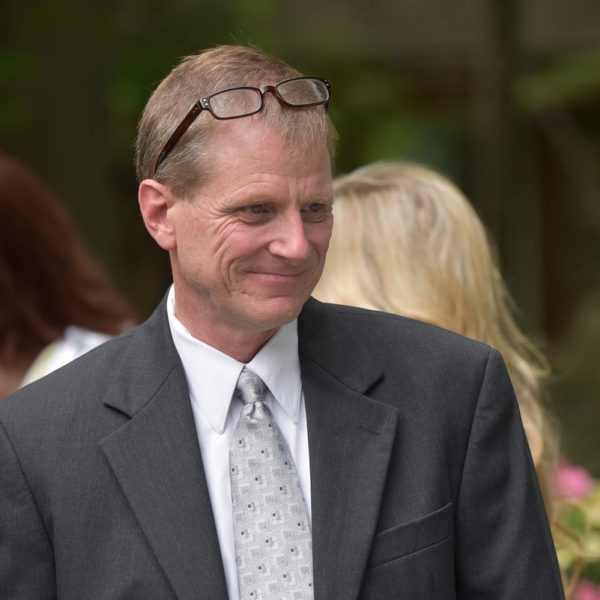 Robert C. Hansen has been chosen as 15th Head of The Leelanau School
A nationwide search which produced numerous qualified candidates from all over the country to fill the Head of School position resulted in the Board of Trustees selecting a local, Leelanau County resident and Head of The Pathfinder School in Leelanau County as the most qualified to be their next leader beginning in July, 2018.
Mr. Robert C. Hansen was first a parent of The Pathfinder School, and then a board member, before becoming Head of School in 2012. He leaves after establishing a new strategic vision, expanding their instructional program, strengthening the arts, implementing a counseling program, improving student success, growing enrollment, fundraising and balancing their budget. Prior to his time at Pathfinder, he was the Supervisor of Instructional Services at the Traverse Bay Area Intermediate School District and Technology and Data Integration Specialist.
Hansen began his career as a scientist after obtaining a Bachelor's in Chemistry from University of Illinois.  He returned to school to pursue his Master's Degree in Education from Aquinas College in Grand Rapids realizing that education was his passion. He taught in both Bullock Creek High School in Midland, Michigan and in Northport Public Schools in Leelanau County, Michigan before moving into administrative work.
Hansen sought this position in part because he believes that Leelanau County can become a model for what an ideal education looks like. Hansen says, "I have seen Leelanau School students and alumni in action. Their self-confidence, joy and leadership are apparent. I know the reputation and dedication of The Leelanau School faculty and have deep professional and personal admiration for the administrative staff."
Carolyn Helmlinger, Board Chair and Co-Chair of the Search Committee, said, "We were fortunate to find an outstanding leader who has experienced and thoroughly understands the culture and mission of The Leelanau School. Rob has classroom experience, financial acumen, and a plan to grow our school through collaborations, curriculum enhancement and program visibility."
Rob Hansen will follow JD Friley at The Leelanau School, who plans to retire from education at the end of the school year. Coincidentally, Friley also served in a leadership position at The Pathfinder School from 2000-2006. As The Leelanau School's leader since July 2016, Friley was responsible for the re-accreditation by the Independent Schools Association of Central States (ISACS) and the completion of the first phase of a Strategic Plan, as well as continuing to improve financial stability and enrollment practices at Leelanau. Friley said this about Hansen, "Throughout the process, I have been impressed with Rob's passion and energy and love of learning. As a strong champion of independent schools, Rob truly exemplifies our mission to 'ignite our student's passion for learning.'  It has been exciting to watch him engage with our faculty and students and to consider all that is possible for Leelanau's future."
The Board of Trustees made the choice for Hansen from an original slate of 20 candidates from all over the country. The pool was narrowed to four semi-finalists, and two who visited campus, by a specially appointed Search Committee. The Search Committee of 12 individuals met for 16 months and was made up of parents, alumni, faculty and administrators, local business leaders and board members.  Surveys were conducted and all faculty, staff and students were given time to interview each candidate during a recent campus visit by both finalists.
Hansen will continue his post at The Pathfinder School and begin his tenure at The Leelanau School on July 1, 2018.  He leaves Pathfinder with solid enrollment numbers, balanced budgets and strong educational programs.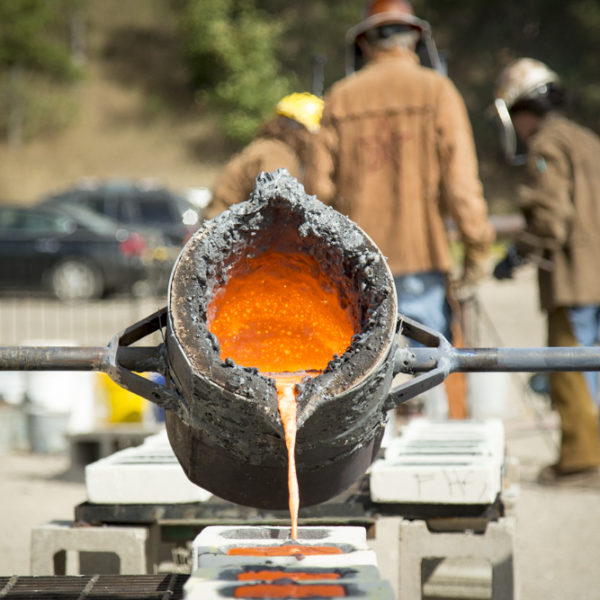 Experiential Learning has always been at the heart of a Leelanau School education. Leelanau teachers are constantly looking for ways to purposefully engage with learners in direct experience and focused reflection in order to increase knowledge, develop skills, clarify values, and develop people's capacity to contribute to their communities, which is how the Association of Experiential Education describes the philosophy.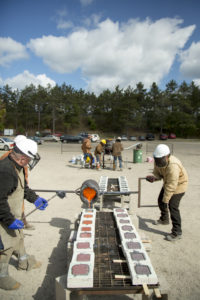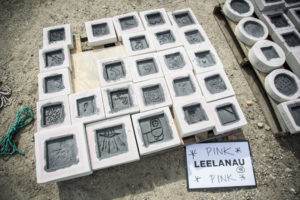 Recently Leelanau School students were given the unique opportunity to participate in a true multi-disciplinary experiential learning opportunity in collaboration with the Michigan Legacy Art Park at Crystal Mountain Resort. The event was actually directed by Leelanau's own visual art instructor Kaz McCue, who also happens to be the Artistic Director of the Art Park. Kaz (as we lovingly refer to him) invited Marquette metal artist, Theresa Smith,  the Artist-in-Residence for the Michigan Legacy Art Park, who has 22 years of experience with iron work, community projects, and art programs, to visit Leelanau and to introduce the students to the project and initiate the discussion.
As part of the creative process of creating a cast iron sculpture, scratch blocks were created where each student scratched designs into templates which were later poured with molten iron. One of our school values, "Stewardship" was particularly emphasized as students worked with donations of old radiators to break down for melting. This hands-on opportunity was the first step in the process of seeing junk transformed into art.  The concept of recycle and re-use is one familiar to Leelanau students, but this project was a new experience.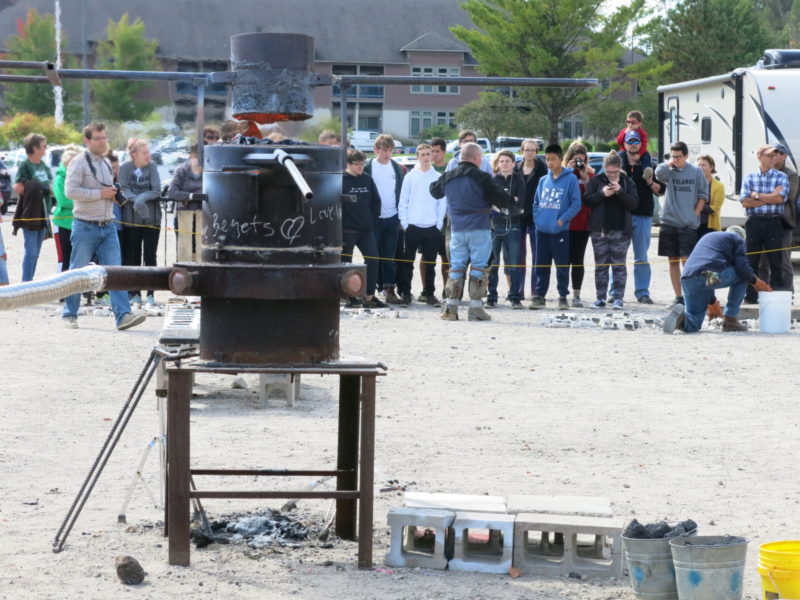 Students brought the novel project back to the classroom by choosing to focus their academic work on the following educational modules relative to this project: "Iron Ages: A History of Iron in Michigan and Beyond " (history) taught by Joe and Elizabeth Blondia, "Having a Melt Down: An Exploration of Melting Points" (science) taught by Jay Meyers and Cris Pina,  "Testing Your Metal: An Investigation of Metallurgy" (science) taught by Bruce Hood and Cris Pina, and "A Write to Own: Workshop a Creative Poem or Analyze the Mixed Self" (creative writing) taught by Tanya Firestone and Kim Speicher.
Finally, the process concluded with a trip to the Art Park at Crystal Mountain to spectate at the Iron Pour, where the iron was heated in a special furnace to 3,000 degrees and poured into molds. Following the pour, Leelanau students also got to tour the park, which features 50 outdoor sculptures and two miles of wooded hiking trails.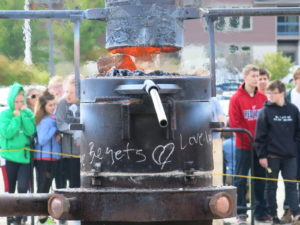 Read more about the Iron Pour at The Record Eagle.

Every fall when Leelanau School students arrive on campus for a new school year things start a little differently.
Rather than jumping right into academics, our students set off on outdoor adventures we call Exploratory Trips  – a kick off to the upcoming year of Experiential Learning. These trips set the tone for what life at Leelanau will be like and allow students new and old to "experience" something together; something that will be built upon in the coming months and years.   
Two of the themes that begin with Exploratory Trips and continue throughout the school year are "Council" and school values. We believe in the development of the whole person, not just a student's academic skills, and as such, students participate in a tradition known as Council, which is a way to communicate, connect, and learn about one's self, each other, and their place in the world. Additionally, during Exploratory Trips, students are introduced to Leelanau School values and become familiar with the norms and expectations of our community.
Community Core Values
Resilience    Awareness    Courage    Leadership    Stewardship    Integrity    Interconnectedness
This year each class participated in these amazing experiences:
Freshmen: Explore Yourself within The Leelanau School Community

Freshmen were  introduced to Council during their Exploratory Trip which was to the Leelanau Outdoor Center (LOC). There they spent three days and two nights learning about each other and becoming familiar with the outdoor environment. The first night was spent in a cabin and the second night was spent tent camping. The LOC staff worked with faculty and students doing group initiatives, including a ropes course, and provided camping gear and tips on how to use it. The ninth grade faculty Council team was present at all times to help the students pack for the trip, provide support and encouragement, learn about each student as an individual, and provide supervision and support overnight.
Sophomores: Venture Forth into the Community: Leadership, Stewardship, Integrity.
Sophomores also spent their

 Exploratory Trip at LOC and had a similar experience as the Freshmen. Some of the skills that our tenth graders worked to develop included thinking beyond one's self, taking healthy risks, collaboration, and courage. Returning students lead discussions with new sophomores regarding "doing Council".
Juniors: Quest for Independence and Responsibility
Juniors set off on their trip to the Nordhouse Dunes Wilderness Area, where they spent three days and two nights hiking, canoeing, and camping along the dunes. Staff from LOC joined our faculty in working with the students doing group initiatives. The eleventh grade faculty Council team was present at all times to help the students pack for the trip, provide support and encouragement, learn about each student as an individual, and provide supervision and support overnight. Some of the skills the eleventh graders worked to develop included understanding and demonstrating one's personal gift to the community, conscious awareness of self, and the development of leadership.
Seniors: A Time for Introspection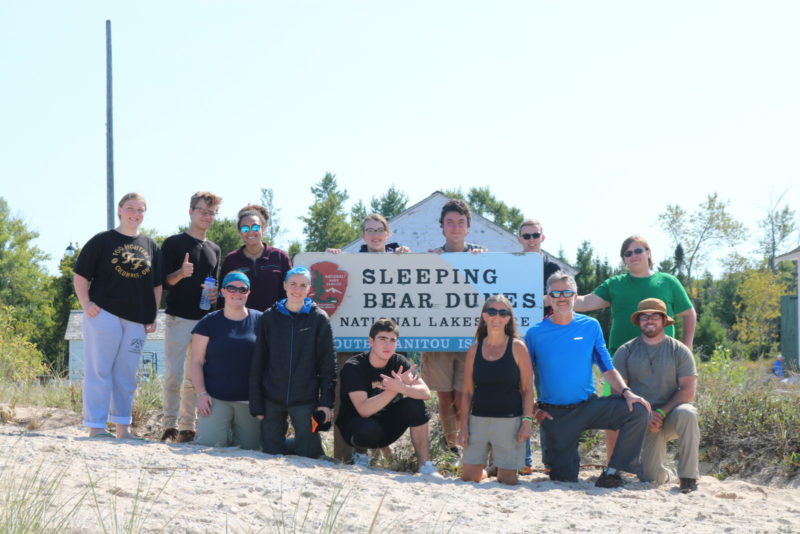 Seniors traveled to Leland and then boarded a ferry to South Manitou Island for their final Exploratory Trip. Once on the island they carried all of their gear and supplies in packs to their camping area where they spent three days and two nights. The twelfth grade Council team was present at all times to help the students pack for the trip, provide support and encouragement, learn about each student as an individual, and provide supervision and support overnight. The twelfth graders worked to ripen their awareness of self, make informed decisions, and realize individual potential and place within the community.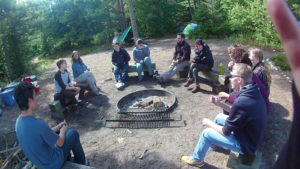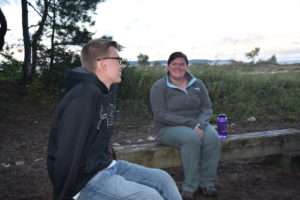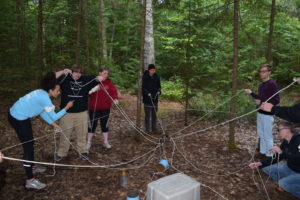 We are excited to announce that two alumni, one from the 80's and one from the 90's will be back on campus to share their perspective and wisdom with our seniors and community.  On Thursday, June 1, Meagan Darlington from the class of 1990 will be the featured speaker to the senior class at their traditional breakfast.  The senior breakfast is their first glance at the world as our newest Leelanau School alumni.  They will hear about our expectations for maintaining close ties to the alumni office and especially each other, and taking opportunities to give and be of service to The Leelanau School.  Meagan returns as our one of our two newest Board of Trustee's members.  She attended her first board meeting in May and has already added much to discussions in marketing and branding as a manager in these areas for Adobe, Microsoft and Google.  We are excited to have her return to talk to our students in an intimate breakfast format.  Area alumni are welcome to the breakfast.  Please contact Julie at 231-334-5827 if you plan to attend so we can have enough seating and food prepared.
On Graduation, Saturday at 11:00 a.m. we will hear from Leelanau School alumnus, Arya Khoshnegah, class of 1981.  He will be sharing his experience as an incoming student directly from Iran during his country's political unrest.  He will share his views on how Leelanau School provided him and his sister a "home- away-from-home," and prepared him for a successful life in the United States.   The public is welcome to attend Graduation – no RSVP's are needed.
This year, we will graduate 19 wonderful seniors.  They represent the following states:
Michigan (7) Illinois (3) and one each from Ohio, Wisconsin, Minnesota, Iowa, New York, Connecticut, Florida, Colorado and California.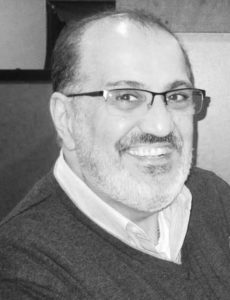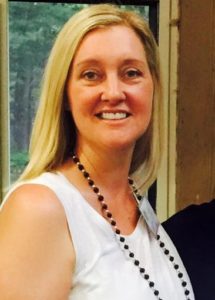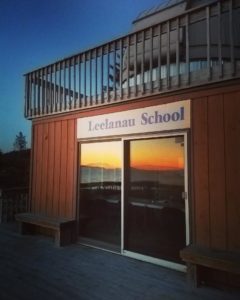 Houseparent Spencer Seaman snapped this gorgeous picture at sunset last evening on April 13, 2017 at The Lanphier Observatory at The Leelanau School.This hidden treasure is something you want to put on your "must do" summer list.  Click on the link and then scroll down the page to read a wonderful article in the Glen Arbor Sun last year about the Observatory.
July 5, 2016 "Lanphier Observatory celebrates 40 summers of public stargazing"