Afternoon Activity and Athletic Program

Our Afternoon Activities and Athletics Program is designed to provide students at all levels, abilities, and interests engaging opportunities that foster the development of skills and interests.
We believe fun and diverse extracurriculars play an integral part in a well-rounded education and development of a student – even if that means participating in things outside of their comfort zone.
Throughout the school year students participate in one activity per six week session. Activities are held after classes Monday through Thursday for an hour and fifteen minutes and are facilitated by the supportive adults of the Leelanau community.
Parents are constantly amazed to see their children's self-confidence and sense of belonging soar in our safe and accepting environment.
Afternoon Activities 
Conditioning- Students get their heart rates up in our school workout facility utilizing our cardio machines, free weights, and weight machines.
Creative Exploration– Students are provided the opportunity to explore a variety of mediums such as painting, drawing, graphic design, music, and arts & crafts.
Field Sports– Students learn and refine their skills in a variety of outdoor sports and games such as soccer, flag football, kickball, and baseball.
Footsteps– This Leelanau tradition combines walking, hiking, biking, and kayaking and allows students to experience a different activity each day – all the time exploring our beautiful area.
Gym Sports– During the winter months students can burn off energy and further develop their coordination and skills doing indoor soccer, volleyball, basketball, dodge ball, and kickball.
Horseback Riding– Experienced or novice equestrians can take lessons, study equine anatomy, and learn about how to groom and care for horses through the wonderful coaches at Blue Oxer Farm. Just snuggling and brushing a horse is always an option too!
Skiing/Snowboarding– Students hit the slopes at Crystal Mountain where they can ski or snowboard for the afternoon and early evening, with weekend opportunities available as well. All levels are welcome to participate.
Volunteer/Hiking/Yoga– Each day students explore the local hiking spots, practice yoga, or volunteer within our community.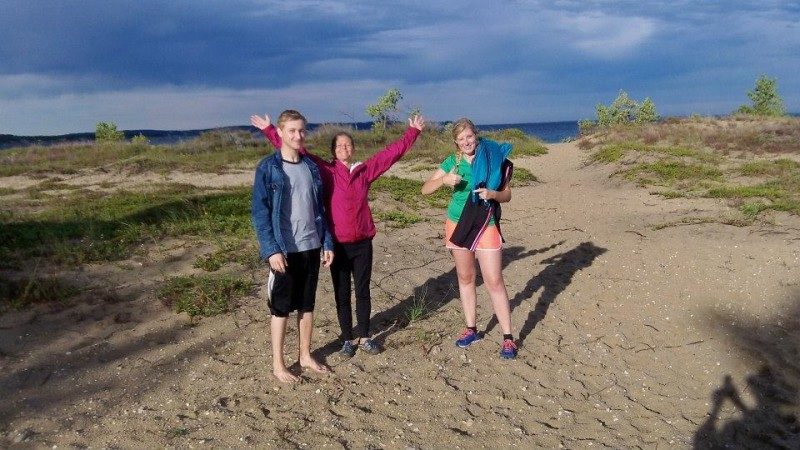 Athletic Program 
Cross Country– Students can find serenity in the woods while having the chance to represent our school and follow their passion for running.
Tennis– Leelanau is part of the Glen Lake Community Schools Co-op Tennis Team. Students refine their technical and tactical skills while meeting other high schoolers from the area. We also have amazing tennis courts on campus.
Future Plans 
Golf– Students would have the opportunity to learn the game of golf or hone their skills at some of the many local golf courses.
Rowing– Students would have the opportunity to learn the basics of rowing on lovely Lake Leelanau, all the while developing discipline, concentration, and team unity.